WELCOME TO OUR HOME OF GOLDENS!
California Breeder of Golden Retrievers
 

WE ARE A BREEDER OF: 
 ENGLISH CREAM GOLDEN RETRIEVERS
AND 
DARK RED HUNTING / FIELD GOLDEN RETRIEVERS 
LOCATED IN SOUTHERN CALIFORNIA
BENJAMIN IRVING IS:
Dedicated to the Excellence of the Golden Retriever
Safeguarding Their: Health, Temperament, Intelligence, Confirmation, Spirit, and Versatility
WE HAVE PUPPIES! 🥰
OPEN THE "AVAILABLE PUPPIES" PAGE TO SEE WHAT BABIES ARE AVAILABLE NOW!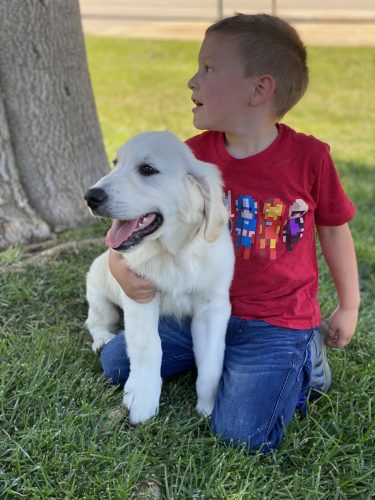 WHAT ARE FAMILIES SAYING ABOUT OUR PUPPIES?
"I just love her so much.  She has been just

a real joy!"   Rachelle (Maggie & Izum Litter)
"He is doing great!  Thank you for an amazing dog!  We love him."   Taylor & Mingyi (Maggie & Izum Litter)
"We are madly in love with our boy.  He is very smart and loves to watch Dog TV on YouTube.   

Robert (Winnie & Izum Litter)
"He's been SO perfect!  He doesn't chew anything.  We love him."   Samantha (Maggie & Izum Litter)
"He is doing great and sleeping well!  We are so happy."   Heather (Winnie & Izum Litter)
Our girl is wonderful!"   Chris (Winnie & Izum Litter)
WE ARE PLANNING A LITTER OF RED FIELD GOLDENS FOR FEBRUARY 2024  RESERVE YOUR PUPPY NOW.

GET STARTED ON A NEW ADVENTURE WITH YOUR GOLDEN 
There are many dog sports that puppy/dog owners can choose from, such as agility, disc, obedience, flyball, dock diving, and scent work, just to name a few.  The AKC website is a great place to start checking out the options.  Get out there and have fun with your best friend.
MEET DOMINIQUE AND ROSIE.  (ROSIE IS FROM OUR MOLLY & ROWDY LITTER.) THEY HAVE DEVELOPED AN AMAZING RELATIONSHIP WHILE HAVING A GREAT TIME.
MEET JOAN AND MOLLY, WHO ARE HAVING A WONDERFUL TIME TRAINING FOR AGILITY COMPETITIONS

.