Benjamin Irving Goldens is comprised of a family who has a great love and admiration for the Golden Retriever.  Goldens are one of the most outstanding dogs in the world.  We are amazed at their attributes that endows them with the vast versatility to be fantastic as caring companions, as search and rescuers, as hunters, and as competitors.  As breeders we have a responsibility to uphold, uplift, and preserve the delightful qualities of this breed.  We put our heart and soul into our work, making every effort to offer quality puppies that will bring joy and love to their families.  Benjamin Irving Goldens is not a large breeder, one might say we are a Boutique Breeder, in that we are specializing in the European creams, and the dark red field Goldens.  Our focus is on quality not quantity.
Benjamin Irving is located in sunny Southern California, about midway between Los Angeles and San Diego. Our location affords us endless options for adventure in the great outdoors.  Our Golden Retrievers love the ocean and lakes, the hiking and camping, and snow days in Big Bear or Mammoth.  We take them to the ball games, to the parks, and on walks.  We enjoy our dogs very much, and we are always looking for ways to tap into all those attributes.  We have a master plan for our property, which includes a playground that will stimulate the dogs mentally and physically, a training area with agility equipment set up, and a pool.  We believe these facilities will contribute greatly to our training programs.
Benjamin Irving strives to provide the highest quality. We have obtained world-class champions from the United States and Europe.  We have been blessed to have spent time with top breeders here in the USA and from Europe, and we are honored to be able to draw on their experience and expertise, adding depth and excellence to our breeding program.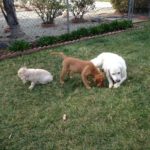 The name Benjamin Irving was chosen in honor of our Father and Grandfather.
Welcome, and we hope you enjoy your visit to Benjamin Irving Goldens!