We Take Reservations on 4 Females and 4 Males for each litter.   Once the reservations have been filled, we will start a waiting list. 
HOW TO RESERVE YOUR BENJAMIN IRVING GOLDENS PUPPY
STEP ONE:   Please fill out our Puppy Inquiry Form.
STEP TWO:   Read through our Contract/Guarantee.
STEP THREE:  Make an appointment to visit our kennel and meet our dogs.  (If possible)
STEP FOUR:   Return a signed contract to us and make your $250 non-refundable deposit by using the PayPal button below.
LITTER BB-2   FIELD/HUNTING GOLDEN PUPPIES
SIRE: HR MK'S ROWDY BOYS RASIN A RUCKUS, JH  – "ROWDY"       
http://www.k9data.com/pedigree.asp?ID=414647   
 

AND

 

DAM:

OUR BOUNDERHILL BLAST OF COLOR  – "MOLLY"   

      
WHERE WE ARE: Puppies born January 4, 2018
READY TO GO HOME:  March 8, 2018
MOLLY AND ROWDY'S PUPPIES – $2,850.00
LITTER LC – 1   100% ENGLISH CREAM GOLDEN PUPPIES
DAM: OUR  IABCA NAT & INT CH LAKE COUNTRY SVETA STAR OF YUDITA  – "SVETA SUE"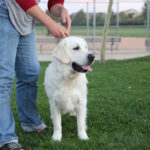 AND
 SIRE:  MONTEGO ABSOLUTE TRUTH  – "TRISTAN"   
http://www.k9data.com/pedigree.asp?ID=638375
WHERE WE ARE:  Puppies born Saturday, December 30, 2018
READY TO GO HOME:  March 4, 2018
                      ******************
SVETA AND TRISTAN'S PUPPIES – $3,500.00
Benjamin Irving's goal is to match you and your family with a puppy/dog that will easily integrate into your family and your family's lifestyle.   We want you to have a great companion and our puppies to have loving homes.  
********  Puppies will be chosen by order of deposit received ********
FULL ENGLISH PUPPIES ARE $3,500.00
HALF ENGLISH AND HALF AMERICAN ARE $3,000.00
RED FIELD PUPPIES ARE $2,850.00
All puppies come with current vaccines and worming, a health check by a veterinarian, AKC Registration, and with a Registered Microchip through AKC's Reunite and Smothered with Love.
Click on the Buy Now button below to make your deposit of $250.00