We Take Reservations on 4 Females and 4 Males for each litter.   Once the reservations have been filled, we will start a waiting list. 
HOW TO RESERVE YOUR BENJAMIN IRVING GOLDENS PUPPY
STEP ONE:   Please fill out our Puppy Inquiry Form.
STEP TWO:   Read through our Contract/Guarantee.
STEP THREE:  Make an appointment to visit our kennel and meet our dogs.  (If possible)
STEP FOUR:   Return a signed contract to us and make your $250 non-refundable deposit by using the PayPal button below.   
******************
WE HAVE A FEW 100% ENGLISH CREAM PUPPIES AVAILABLE
THESE PUPPIES WERE BRED WITH LOTS OF LOVE AND CARE!
DO NOT  BELIEVE THE FALSE AND INACCURATE INFORMATION YOU READ ON THE INTERNET…..WE HAVE ALL THE DOCUMENTATION TO SHOW YOU THAT THESE BABIES ARE OF THE HIGHEST QUALITY.   WE GUARANTEE THEM!  WE HAVE NEVER HAD A PUPPY WITH DYSPLASIA, HEART PROBLEMS, OR EYE DISEASE…..PRAISE GOD!  REACH OUT TO US WITH ANY QUESTIONS.
  3 Females and 1 Male Available
DID YOU KNOW THAT…..
 These puppies are at a perfect age to begin training?
They are mature enough to have control over their bladders…no accidents in the night?
They have been raised in a family setting and have been well socialized?
These puppies learn easily, love people, enjoy water, are very loving, and highly intuitive?
We guarantee these puppies hips?  Check out our contract/guarantee.
They will be show stoppers everywhere you go?
DID YOU KNOW THAT……
The Sire, Tristan, is from a highly respected kennel in Australia?
OFA has a chart that enables you to compare hip ratings from other countries to our OFA standard here in the USA? 
Tristan has all health clearances including a solid hip that OFA rates as GOOD?
We will provide copies of Tristan's health tests upon request?
Tristan's father is Multi Ch Majik Truth Or Dare?
Tristan's Grandfather is Multi Ch Majik Finders Keepers
Tristan's Great Grandfather is Australia's Grand CH Tulzean Autumn Tango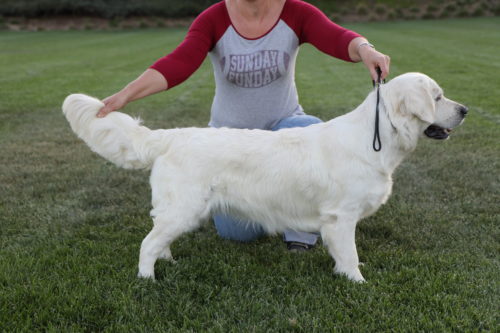 DID YOU KNOW THAT…..
The Dam, Sveta, has all current OFA Clearances?
Sveta's hips scored better than the average hips tested?
Sveta is very intelligent and has a strong mind…. where most dogs protest due to intellect overload, Sveta keeps on going?
Sveta is very confident and not easily spooked?
She loves people, is gentle with children, and has a beautiful smile?
Her pedigree is loaded with champions like:
PUPPIES ARE SELLING!
PLANNED LITTER
WE PLAN TO BREED MOLLY IN EARLY 2019.  WE HAVE SOME GREAT MALE PROSPECTS FOR THE SIRE OF THIS LITTER, AND WE WILL POST THE INFORMATION AS SOON AS IT IS FINALIZED.  IF YOU WANT TO BE ON THE WAITING LIST FOR THIS LITTER, PLEASE FILL OUT THE PUPPY INQUIRY….EMAIL US A SIGNED CONTRACT/GUARANTEE AND MAKE A DEPOSIT BY USING THE PAYPAL BUTTON BELOW.  
FIRST PICK FEMALE IS TAKEN
Benjamin Irving's goal is to match you and your family with a puppy/dog that will easily integrate into your family and your family's lifestyle.   We want you to have a great companion and our puppies to have loving homes.  
********  Puppies will be chosen by order of deposit received ********
All puppies come with current vaccines and worming, a health check by a veterinarian, AKC Registration, a Registered Microchip through AKC's Reunite and Smothered with Love.
WE DO NOT SHIP PUPPIES!
Click on the Buy Now button below to make your deposit of $250.00